What is a Master Key System?
A master key system is a network of locks and access points within your building, all of which are given specific access to specific people based on your exact needs.  Master key systems can be beneficial for multi-tenanted buildings and flats, schools or universities, office buildings or other businesses with varying levels of security access throughout the building.  
There are two types of Master Key Systems available:
Open Section – keys and locks can be copied at will

Restricted Security – keys and locks are registered and protected from unauthorised copying (recommended)
Timpson Security can design your Master Key System to your exact specifications. We would perform a site visit to map out all the access points, the type of lock already installed in these points and the people needing access to these points.  With your approval, we can then install a secure system with a 20 year patent – meaning that the locks and keys cannot be copied until the patent expires, adding an extra layer of security.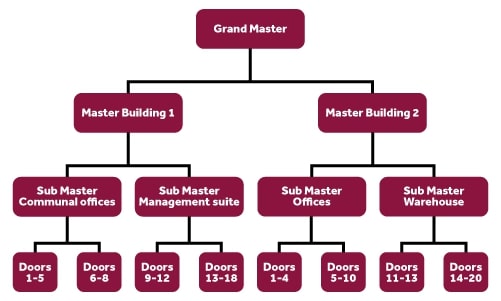 Grand Master Key full access throughout several building, or multiple outlets.
Master Key full access throughout a single building
Sub Master Key for someone in charge of a department
Cleaners, maintenance, deliveries keys limited access to certain areas only
Differ or servant Key staff member or tenant for instance
Communal Doors the key will operate the communal door

Master Key Terminology Explained
When a lock is individually keyed, it can only be opened by its own key & no other.
This allows for a number of locks to be operated by the same key. An example being when someone wants their front & back doors working from the same key.
When each lock has its own individual key that can't be used on any other lock, but one key is able to unlock all locks. This key is the Master Key.
Can evolve & designs get more complex, you may be responsible for a building with departments or areas that need grouping, entrance doors which everyone can use, or special access to certain parts by cleaners, maintenance or deliveries, so this is when different security levels & importance of the keys are paramount in the design of any system.
Types, finishes & sizes of lock bodies and cylinders

Keys are not always included with cost of cylinder

Prices vary according to how locks are keyed KD, KA, & MK & their security levels, such as open section, restricted, along with their master keying capability.

Keys are always cheaper when ordered with system install

Master keys are sometimes more expensive than differ keys depending on manufacturer.